I would like to say a huge welcome
Well, I've never written a blog before so a big thank you Susan for giving me a new challenge.
Maybe I will get the bug!
For over 30 years I have been a professional artist weaving my own tapestry designs.
I started designing and making jewellery in the early 1990s as a way to extend my making skills,
and although it is not my main work I enjoy the contrast of working on a small scale with metal.
Many artists have done this in the past;
sculptors Henry Moore and Alexander Calder designed textiles
and made jewellery and the Cornish artist Breon O'Casey did all three.
Consideration of the possibilities throws up new challenges
and sometimes what may seem a good solution at the time you
realise can be better suited to a different medium.
The way you approach a problem is different for each medium. Knitting and crochet uses this a lot.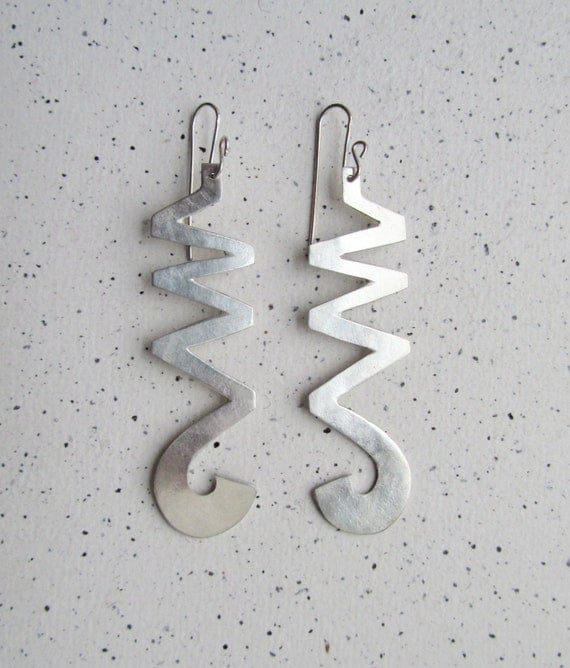 My jewellery is all about shape and texture.
I work with sheet silver in different gauges.
I love the way you can manipulate the metal by cutting into it or
make subtle pleasing curves in contrast to the angularity of my design.
It is so different to working with soft and pliable yarns.
Once the design is decided and the shape fixed the piece is there for all time
and has a completeness and rigidity you couldn't imagine when you started.
My shapes are quite modern but with an Art Deco twist
and I like simplicity of designas it has impact.



I texture the silver in various ways which catch the light as one moves.
Working with metal and on a tiny scale like this is very different to the rest of my work I know
and I make pieces I would wear myself; earrings
and brooches mainly and cufflinks that I know my son would wear.
Brooches are my favourite items because I think they make a real statement.
Some are fairly small and simple, others larger and bolder.
I recently sold two pieces to be worn together; they look great this way as a pair
and I have noticed more people are doing this.
For many years I sold my jewellery through various craft galleries around the UK
and last year I decided to open an Etsy shop to give mea new outlet for my work.
So do please come and have a look at "
Ross & Ross
" on Etsy;
perhaps visit my main website as well to see what else I do.
I hope you enjoy my work.
Links:
Thank you ever so much Jeni!
You are just so talented! I love your Jewellery.
I hope you'll all join me in thanking Jeni
and check out her links and more of her fantastic work.
Her site is amazing!