My List for 2012:
I have now joined Ali's A Granny A Day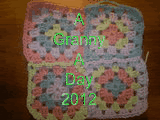 I may not make one a day but I at least want to make one a week :-). Click on the picture to go over and join in.
I have also joined:
http://www.ravelry.com/groups/2012-crochet-block-a-month-cal
I have downloaded the pattern for my first 6" square.
The other crochet along I have joined is:
http://foodandfibers.com/2011/12/15/january-crochet-along-square
I am struggling on the circle one. Had to give-up and frog a few times now :-(
But I've finished my food and fibres square:
I choose to do mine in a finer yarn and one colour as it was my first real go at doing a crochet sqaure. I'm going to pin it to keep it's shape and then it will be ready to join to next months :-)
I am also going to try and make 2 mittens and 2 hats a month for the african orphanage. I am awaiting a reply from the orphange about setting up a website so watch this space.
I also have my wishlist. I have already started my african flower blanket and have nearly finished my first 30 hexagons. Photo's to follow on WIP Wednesday.
Hope you all have a fantastic 2012!