Good morning everyone!
I hope your week is going well.
I managed to get ill again.
This came out of the blue and I really didn't see it coming.
On Saturday my fatigue was even worse than normal.
I listened to my body and rested all day.
Then Sunday I started with a chest infection.
By Monday I had a lovely cough that almost sounded like
whopping cough.
By yesterday a head cold had started and then a migraine hit me.
I had a headache but as storm clouds were forming I thought it
was just the pressure change.
However by the evening I couldn't move because my head felt so bad.
I couldn't stand light, noise or smell.
So I dosed up and laid down.
I woke up in the early hours feeling sick and that brings us up
to now.
I don't know what it is going to throw at me next,
hopefully it will be recovery :-).
The storm clouds arriving.
I've got a couple of makes this week :-)
I'm making an octopus for my sons swimming teacher.
She is brilliant with him and he has made so much progress with him.
She is leaving to go away to university so we wanted to make her
a little something to say thank you.
The pattern is from Pepika
and should hopefully look something like this: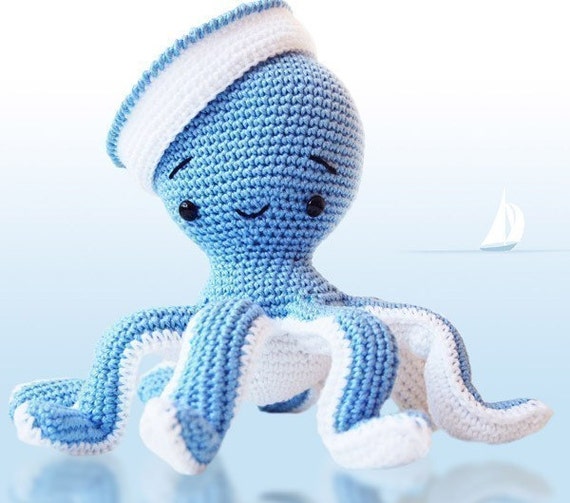 My other make is the next knitting pattern from my Craftsy course.
On this scarf you alter where you put your knit & purl stitches
so that you creates a texture.
It's funny how this time I actually feel like I can knit.
Every other time I've felt like a fish out of water.
It's not brilliant but as I have only been knitting for 2 weeks
it isn't too bad.
I've been very naughty and have been spending lately.
I decided to take advantage of the 1 month free offer on audible.
I did think the price was expensive but as I am struggling with
my reading at the moment I thought I would give it a go.
I would like to admit I was wrong about the price.
If you consider the price of a blueray or dvd and how long it lasts
that is nothing compared to an audible book.
The first book I downloaded was 16 hours.
At first I was unsure as the lady reading the book
seemed really nice and as it was a murder mystery
some of the language and subject discussed was a bit odd
hearing it with her voice.
However by half way through the first chapter I was
really enjoying listening to her.
I am now hooked!
It's so much easier just listening to a book.
I can sit and crochet and relax, even listening to a gruesome
murder mystery.
The first book I listened to was
Killing the Shadows by Val McDermid
fantastic book!
I loved it so much I have just purchased her 2nd book
The distant echo.
As I'm now getting back into the swing of things I've
decided to bring back Mr Linky :-)
I can't wait to see what you are all up to :-)
Mister Linky's Magical Widgets -- Thumb-Linky widget will appear right here!
This preview will disappear when the widget is displayed on your site.
If this widget does not appear,
click here
to display it.