• Tell us a bit about you:
I'm from the north east of England and am a compulsive expressionist.
I've been to university, and I've worked a lot in the arts, heritage and now fair trade world.
Creating Knittynudo has been the most wonderful thing - not only has it given me courage,
but it's allowed me to meet so many amazing artists and buyers all over the world.
I'll be forever grateful to Etsy for that. Some other facts about me?
1. I'm a very colourful dresser, and love prints, though I often envy the effortlessly chic.
2. I have a parrot and 3 harlequin fish. I'd love a whole menagerie one day!
3. I love a bit of kundalini yoga, and try to fit it in every day if I can!
4. I often get a bit lost in my imagination, so much so that I feel like I've lived several hundred lives already.
5. I have the most atrocious sense of balance. If I close my eyes I'll fall over. Really.
• How did you decide on the name for your shop?
I'm a big fan of nonsensical words and phonetics, so I knew I wanted something that sounded 'new'.
At the time my shop was going to include a lot more knitting, so I wanted that reference in there.
The Nudo part just seemed to follow, and it sounded a bit like 'new' which I liked the idea of.
The word was probably in my head anyway as it was my birthday and we were off to my favourite restaurant
(called Nudo!) that night! It all just seemed to fit.
• How long have you been blogging or how long has your shop been open and why did you start?
When I first crafted I never really thought about turning it into a business,
though I had always wanted to do something of my very own.
I would usually keep the things I made or give them to family and friends.
There came a point when there were just too many creatures so I started listing them on ebay.
Etsy seemed a much warmer place, somewhere I could create a real home for them.
I started Knittynudo in January 2011, and started the blog a few months later.
• What is your favourite item in your shop?
Right now I'm building up my stores from Christmas,
as I spend most of the last few months on custom orders and making little creature baubles! From the items in Knittynudo at the moment, my favourite is the Sunda Colugo.
I most enjoy creating creatures that are mostly needle felted but also are embroidered.
I usually reserve this for the larger creatures,
as there is more scope to really play with the different areas of the creature.
I create a lot of little imps and mythological characters for this same reason -
it really lets my mind go a bit wild and free!
• What made you start?
I've always been crafty and interested in trying as many art forms as possible.
When I was a lot younger I would paint and draw, but my main passion was sculpture.
I was addicted to Plasticine - and would make whole scenes as gifts for family members.
Later in my teens I crafted a lot with aromatherapy and herbs,
and this is a passion which continues into my fibre art (the 'aromacurios' series).
It wasn't until I was finishing university that a friend gifted me a starter kit to knit a scarf,
She did warn me that she was potentially creating a monster but neither of us had any idea
of how far my exploration of wool and fibre would go.
Discovering needle felting has been a revelation.
It combines my love of small furry things with fibre and endless possibilities.
• Where do you get your inspiration from?
I am primarily a storyteller, and am inspired by the natural world.
All of my creatures would live in nature,
though many have a dark or fantastical twist.
I am a huge medieval and fantasy fan, so if I can create a little dream world to live in I'm happy!
I like to create a little history for each creature,
so that viewers can get a bit of insight into a new micro world of little monsters and mythological creatures.
• What other things do you like to do in your spare time?
I'm a writer as well as crafter, and I am a regular feature journalist for Om Yoga Magazine.
I have had articles published online as well as in print, and my main focus is on mindfulness,
and the therapeutic benefits of writing, art and action.
When I'm not working, I love to work on short stories and poetry too,
but if I get the chance I love to snuggle down with a good film or go for a woodland walk.
• What would be the one piece of advice would you give to a new blogger or a person setting up their own shop?
Be brave! But if you're not, don't worry too much about it.
When I first started Knittynudo I did have a small sense of pride but I was also deeply embarrassed.
I didn't even tell people at first, as I felt like I was exposing myself in the most intimate way.
It's incredible how different I feel about it now, I never thought I'd be so relaxed.
Caroline thank you ever much!
Your work is wonderful and I love how you use your imagination
to create so many beautiful things.
My favorite would have to be your rabbit: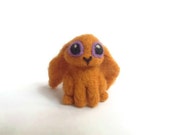 The eyes just make him!
I hope you'll all join me in thanking Caroline
and check out her sites with more of her fantastic work!