AngeLab Handmade Designs (Angelab5705)
Fabulous felted scarves, sassy jewellery, bags and homewares

My name is Angela and I am a feltmaker and fibre artist.
I am thrilled to have created a very small business out of my passion.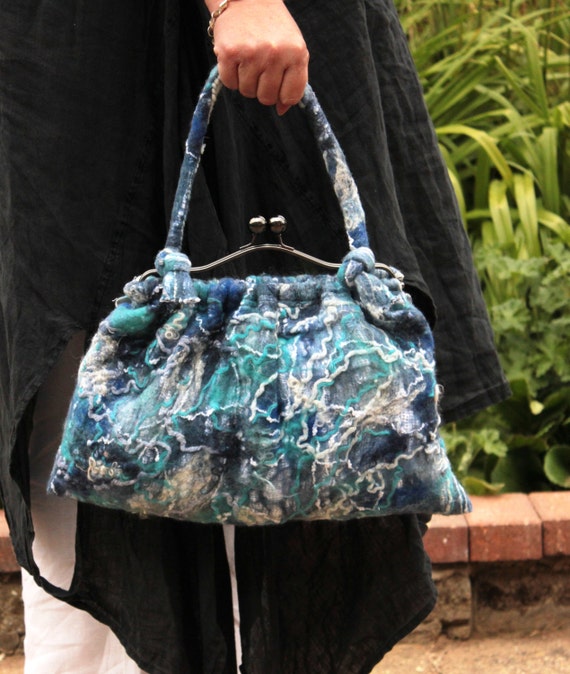 I left university after studying fashion design and production technology.
My course had also equipped me with business and people management skills
and rather than following my heart, I drifted into a "sensible" career in Human Resources.
For a while working my way up the ladder was satisfying but around eight years ago,
my mother was diagnosed with Alzheimers disease, and I took a look at my life
and began to wonder how I had ended up with a career which although successful and stable,
didn't really use my creative abilities.
I began to realise that I only had one life to live and if i didn't take my opportunities to change things,
I could easily see myself retiring without ever having tested my creative mettle.
I realised it was now or never.......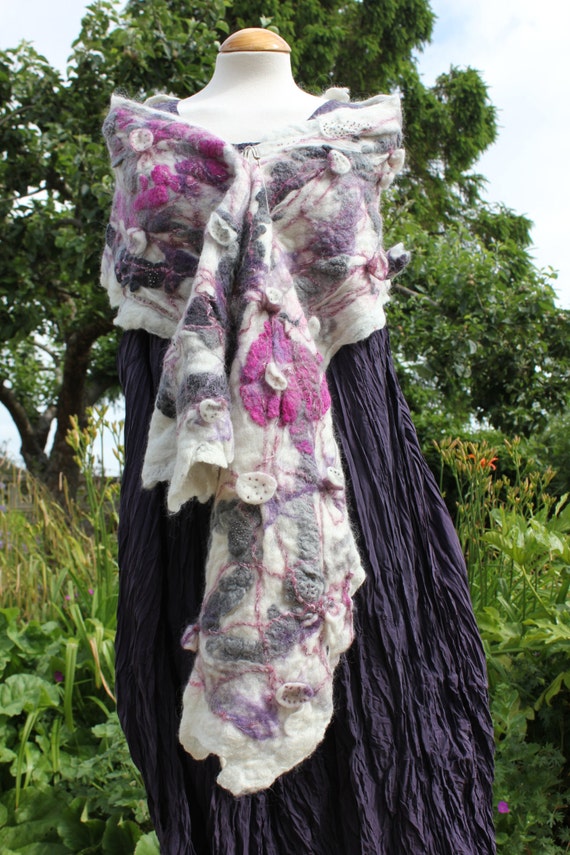 I had discovered felting and its creative possibilities many years earlier
and although it was one of my passions,
I had never really had the time to invest in it as anything more than a hobby.
I made the time to felt scarves and offer them for sale on ebay.
I was delighted when they started to sell, and with the lovely feedback people left me.
My customers came not only from the UK, but from Europe, USA and Australia.
I got a great "kick" from thinking of my creations being worn around the globe.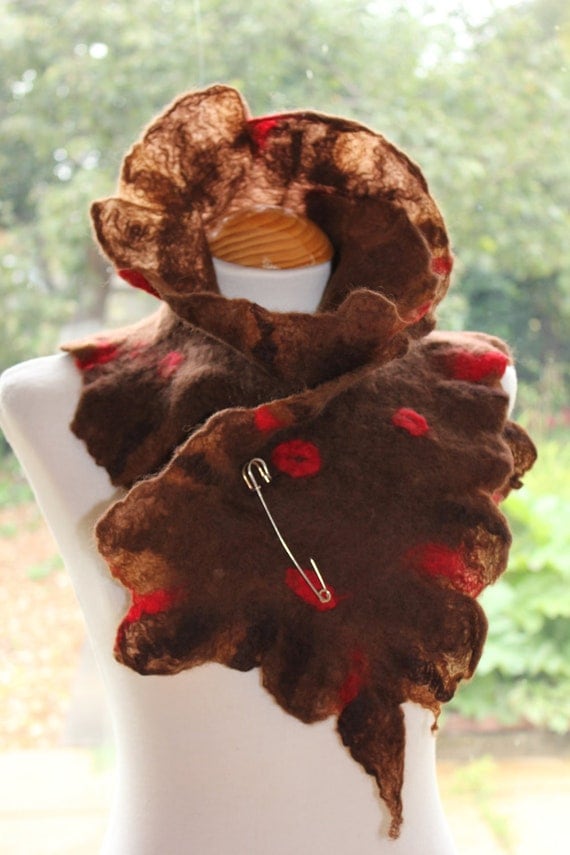 I decided to give up my day job and
I took great pleasure in exploring what else I could do with this fantastic medium of felted wool.
Soon I was making jewellery, bags and homewares.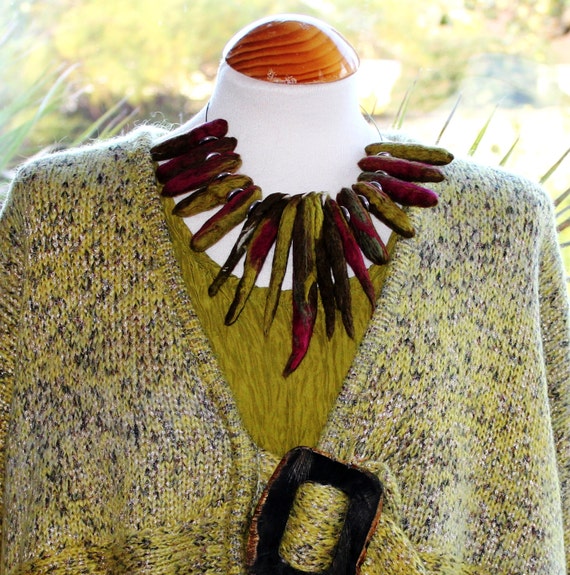 A little while later I set up my etsy shop,
and before I knew it I had several regular customers who came back time and again,
commissioning bespoke pieces or requesting pieces i had in my shop in a different colour palette.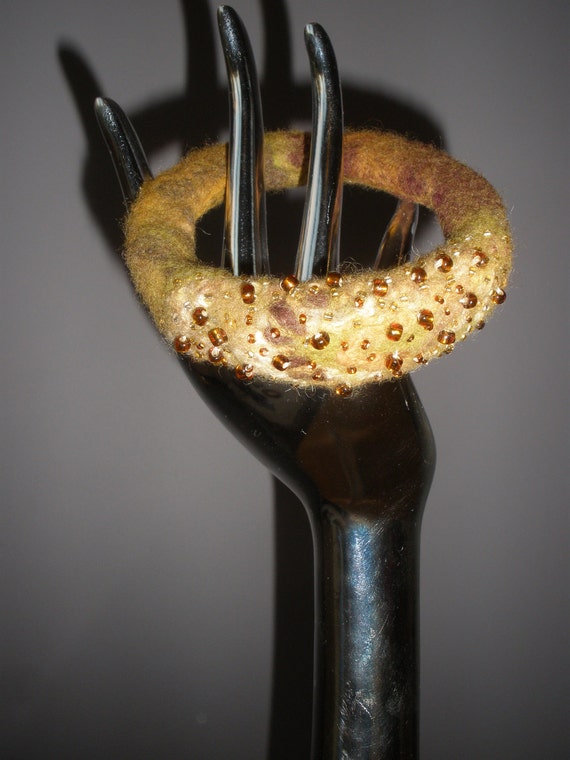 All of my pieces are bold, quirky and individualistic,
ranging from felted wool & silk wraps to clothing, jewellery, felted vessels, cushions and bags.
My work is characterised by exciting textures and interesting colour palettes,
inspired by the world around me – sunsets, landscapes and organic natural shapes.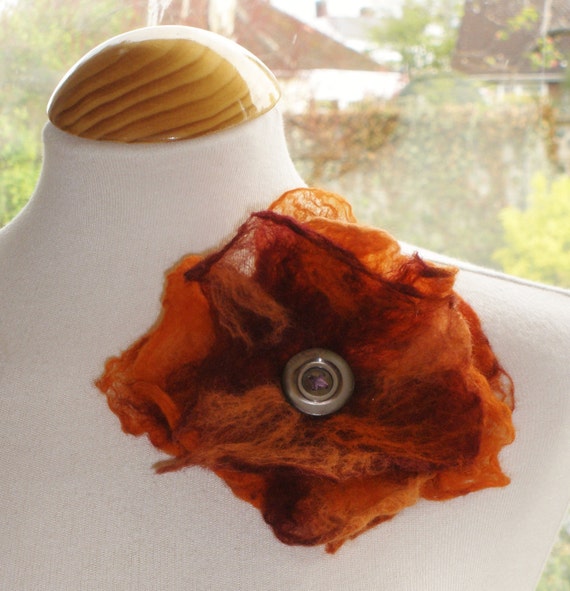 I make each piece with utmost care, quirky creativity and always using the finest materials,
so I can be sure people will be thrilled when they receive one of my pieces.
you can see behind the scenes of my work - how pieces are created and work in progress.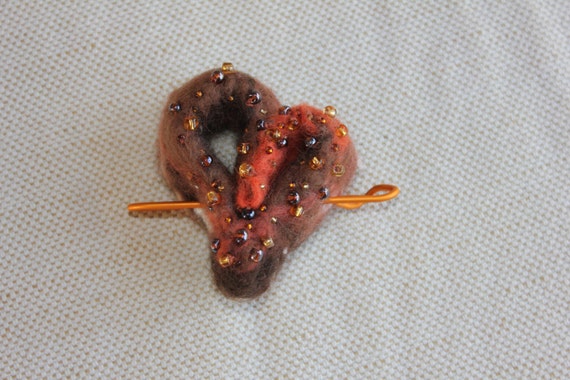 My shop is stocked full to the rafters with fabulous felted pieces that i hope you will enjoy.
I am constantly creating, so the stock is always changing.
I love working with people to create the perfect piece for their outfit,
so if you cannot see what you are looking for, It is perfectly possible to build up a design together,
and it can be made especially for you at a similar price to my ready made pieces.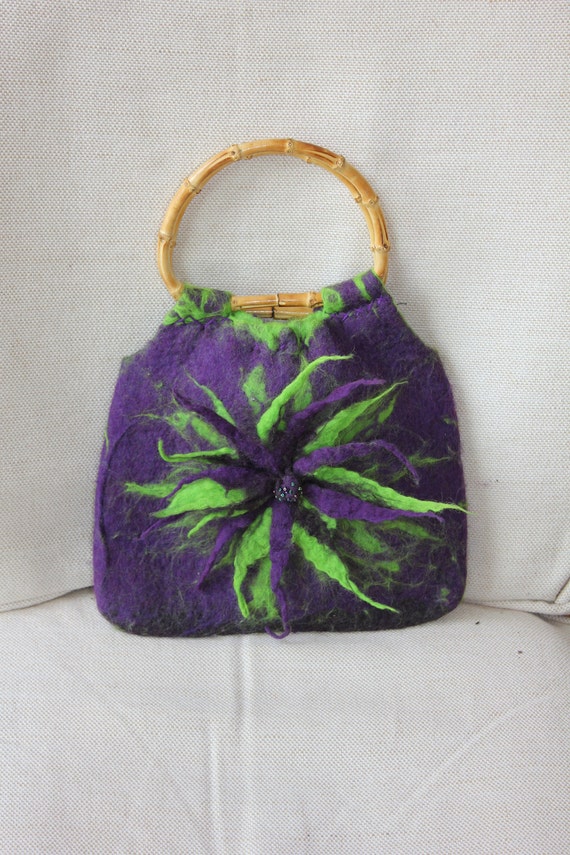 Wow thanks Angela!
I love your use of colour to make so many inspirational designs!
I can't pick a favorite there are so many.
I hope you check out Angela's sites and all her fantastic designs.